Highlight the role of the solidarity economy actors
and territorialize the sustainable development
To identify, classify, map, distribute, share, discuss, articulate and swarming in collaborative lines and interactive links, local sustainable innovations of the solidarity economy can contribute to its growth, to its sustainability, to its overall alignment and to local development in Latin America. But this can also be used for scientific and institutional emergence worldwide of this third pole of economic rationality that requires updates and implementation of sustainability by the local and for global sustainability, and in which the civilian actor is recognized as a major partner.
The program ESSAS, mapping of an economy, based on the principle of reciprocity and designed by people associating freely to meet in a civil manner, localized needs by linking tangible and intangible, and new relationships of local solidarity, will concern initially seven key areas:  *the remaking of goods from the collection of waste or renewable materials. *Finance. *Rural and urban agriculture. * Tourism. Cultural, artistic or craft production. * Cultural, formative, educational or sport actions.
The mapping will then be continued and expanded by the actors of the solidarity economy through networking from the ESSAS network extended to  European and African continents.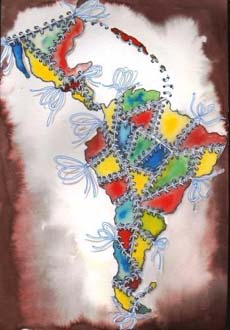 ARE YOU AN ACTOR OF THE SOLIDARITY ECONOMY ?
If you wish to describe your experience and to appear on the ESSAS MAP:
Click below 
ARE YOU INTERESTED IN THE SOLIDARITY ECONOMY?
If you wish to contribute to the achievement  of the Program ESSAS, to interact with it or to implement solidarity economy projects : Click here